In the few years that I've been blogging, never have I received an award for anything. Okay, so I was nominated for the blog of the week but didn't quite make it. He he. So now, this award is my first so it's special.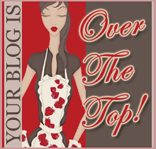 To receive this award your blog must be exceptional in design and content; presenting us with new knowledge, a sense of style, or at times just giving us a smile!

Each recipient of the award will acknowledge the person who honored them with the award and then go to http://overthetopaprons.blogspot.com to copy/paste the award : Your Blog is Over The Top. (located on the right sidebar, scroll down)

Just for fun; I would like to invite you to hit on the Blog Award to see a neat, new website!

The recipient may then pass the award on to 5 others that they feel meet the above criteria.

Please enjoy this honor and consider yourself just a little bit "Over The Top".
This award was given to me by
Vanessa
. Thanks!
Here are blogs that I think deserve this award.
Diaries of A Domestic Goddess
Sasha says...
Maiylah's Snippets
Traipsey Turvey
My Pink Shoelace